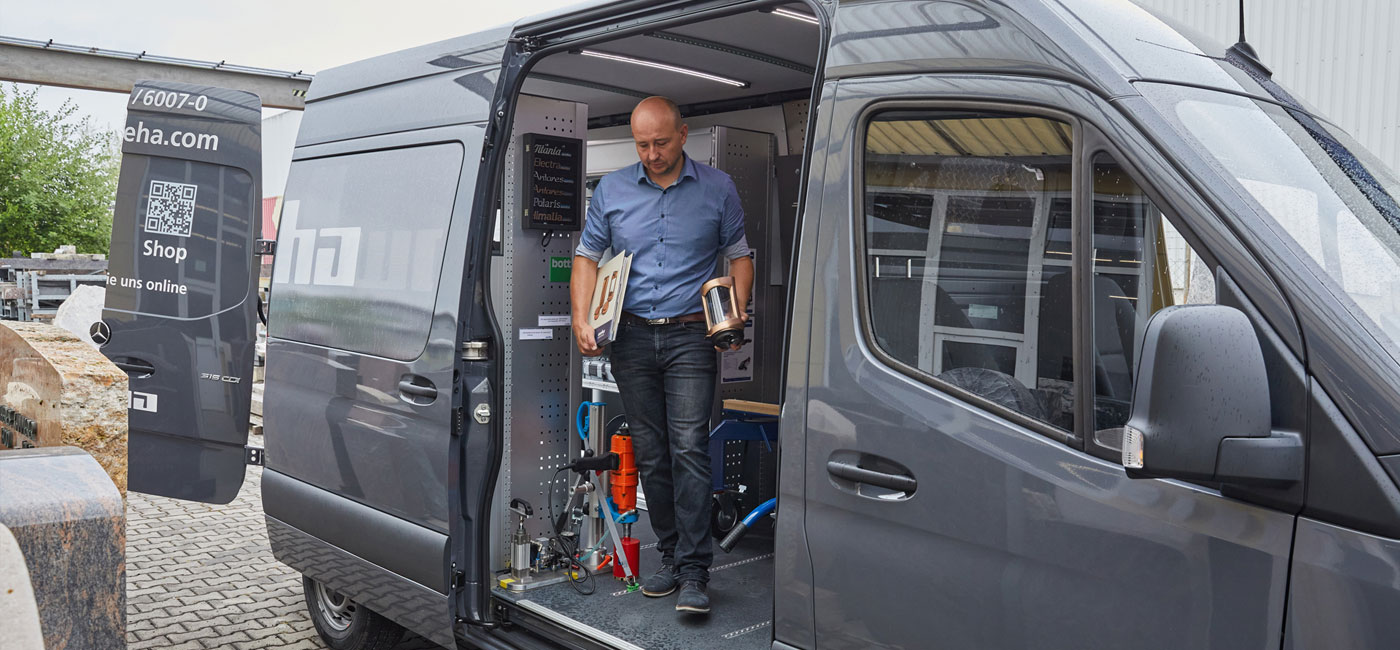 The new weha Sprinter is a modern showroom on four wheels and offers a comprehensive overview of the many small and large tools used in everyday stonemasonry.
There is a very simple fact behind the mobile consulting and sales room, explains Product Manager Katharina Rüttgers: "Stonemasons want to touch tools and equipment and experience them live, that has been our experience in recent years. That's why we decided to enhance the shopping experience with the Sprinter as a mobile showroom."
Although the weha webshop and the information on the familiar social media channels are being used more and more, personal customer support on site remains of central importance and is actively practiced at weha in parallel with the new media. The current product line-up in the Sprinter is dedicated to the topic of gravestone processing. For this purpose, all tools for gravestone processing are available in the vehicle, among others a rotary stand, vacuum lifters, type irons, but also chemical products, diamond tools and grave ornaments. Many customers are enthusiastic about the equipment and the large product selection.
The mobile showroom is on the road throughout Germany and Austria. Each sales representative uses the Sprinter for four weeks and visits his area with it. The response after the first few weeks has been very good and the first tours of customers have been consistently successful. Thanks to the representative equipment, very good discussions result, explains Katharina Rüttgers: "We are very happy about our new sales support and believe that this will bring a breath of fresh air into the daily routine for colleagues and customers after the past two changeable years."
In this sense, "have a good trip", and the Sprinter will certainly be arriving at your premises soon!